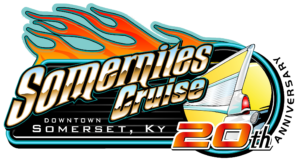 646 total cars with 128 first timers from 14 states braved the rainy and cold weather for our last show of the 2020 season
. Congratulations to raffle winners Anthony Jackson of Somerset, KY, who won the Gatormade Trailer, and John Vineyard of Riverside, CA, who won the 1957 Chevrolet.
We want to thank each and every one of you for coming to our events in 2020!
We've been doing Somernites Cruise for 20 seasons and are always amazed by the success this show has seen. We've made so many amazing friends and memories along the way that words cannot express just how blessed we truly are.
We know it's been a very tough year and many people are really struggling. That's the reason we decided to push forward responsibly and do what we could for classic car owners and fans. Each and every one of you are greatly appreciated! Again, thank you all for your continuing support! Take care, be safe and we will see you on opening day of our 21st season, Saturday, April 24th, 2021!